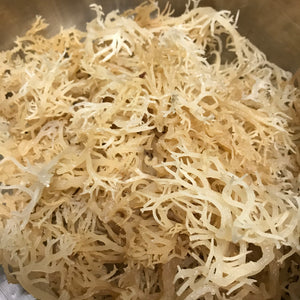 Sea moss has been a consistent part of my life from an early age.
Growing up in the Caribbean, Dominica and St. Croix, I remember my mom would clean through the moss, rinse it, soak it and simmer with her choice of spices. Her blends were, and remain, popular and in high demand from family and friends.

All the rave now, sea moss is a nutritious and filling ingredient that can be used to make flavorful milk and vegan drink option, and used in your food and beauty regimen as desired.
As a matter of fact, when the 'global pancake' started, my Mom called to find out if I had sea moss. (I always have sea moss on hand.)
'Why Mom? Because you'll have something filling on hand if there are any issues with food.'
She continued to tell me all the things I could blend it with if I wanted or needed to.
I am excited to be able to offer you wild crafted sea moss and a basic preparation guide inspired by my mother's techniques...
... whether you're using it as beverage or for the many benefits it is touted for as today's hottest superfood, you'll love this wild crafted ingredient and learning how to properly clean and prepare it. 
'I've always wanted to try sea moss and buying this made it an easy process. The instructions in the preparation guide is easy to follow and the bonus recipes helped me learn different was I could use it.' - Trudy
**This product is made to order and may fall outside of our current processing time which can impact your overall order. Processing times are available at the FAQ page, https://shop.senicanaturals.com/pages/faq.**
Ingredients: Sea Moss, Wild Crafted, includes basic preparation guide
3 oz Wild Crafted Sea Moss - Sénica
The source of the Sea Moss may vary based on availability. Our current stock is from
Sea moss is a vegan product harvested from the sea.
To purchase the instant download of the How to Prepare Sea Moss Guide go here, https://shop.senicanaturals.com/products/how-to-prepare-sea-moss-guide