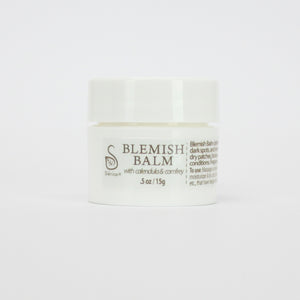 Dry, itchy and irritated skin can be the worst.

And in really bad cases, you can itch and scratch your self into a frenzy which can be damaging to your skin.

Or your skin can be so dry that you experience a chalky film or flaky skin.

Meet the Blemish Balm, your skin's best friend, in the sampler size! 

It is so good, that Sénica Family members are trading in their $300 potions for the richness and moisture boosting results of the Blemish Balm.

Here's why...
... this herb infused balm helps soften skin and fade dark spots.

And it's a fragrance-free formula which means the scent is from the natural butters, oils and herbs we use to create every batch. 

The Blemish Balm is a multi-use moisturizing product that can be used from head to toe or 'crown to sole' as we say here at Sénica.

It works as an intense moisturizer for dry skin patches, can be used on skin irritations such as blisters, cuts, scrapes, blemishes, burns, tattoos, and acne bumps that have begun to heal (dry up).

It is also great during allergy season as it provides a moisturizing and protective barrier  between your skin and common allergens such as pollen. 

You'll love this über-rich formula that melts into your skin to deliver instant moisture and requires only a tiny bit to get the job done. 

It is the perfect addition to your natural first aid kit and skin care routine.

The Blemish Balm delivers intense moisture to nourish your skin helping you say au revoir (that's French for goodbye) to dry, itchy, and irritated skin once and for all. 

Blemish Balm Sampler is great for:
Traveling (airplane & purse friendly)
Trying a new scent option
Gifting to your friends and loved ones (easy and affordable) 

Reasons to love Blemish Balm
🌿 Has purposeful ingredients like calendula herbs for calming and comfrey herbs for aiding in skin cell regeneration 
🌿 Works as multitasking product for daily use and skin rescue 
🌿 Nourishes your skin with essential nutrients and vitamins from cocoa butter and vitamin E, and moisturizes deeply with jojoba and olive oil 
🌿 A fragrance free formula that you could use for just about everything

How long does it last? The average client purchases one to two to three 2 oz jars a year, depending on how they are using it. 
Can I use it on my lips? Yes you can.
To use: Massage a small amount into skin as a daily moisturizer & to cuts, burns, bruises, acne bumps, tattoos, etc., that have begun to heal.
Ingredients: Theobroma Cacao (Cocoa) Seed Butter, Olea Europaea (Olive) Oil, Simmondsia Chinensis (Jojoba) Seed Oil infused with Symphytum Officinale (Comfrey) Leaf, Calendula Officinalis Flower, Tocopherol (Vitamin E), Unrefined Beeswax
Scent Profile: Smells like raw chocolate and herbs, from the cocoa butter and herbs used. No essential oils or fragrance oils are used in this formula.
Also available in a 
Blemish Balm full size with a subscription option where you save 10% with every order
and Blemish Balm Bundle (set of 3) 
Rave Reviews for Blemish Balm: 
'I use the Blemish Balm on my toddlers bumps and bruises and I personally think that it works miracles.' Tameka on the Blemish Balm

'I'm here to say the Blemish Balm works! I use it mostly for my night time moisturizing routine. Skin is so soft and glows & dark spots are definitely fading daily.' - Cece
'After a week and a half of using the blemish balm on my laser scars, the discoloration was completely reversed. I regained pigment in the pink areas of my face and healing to my natural hue, no darker. I am so happy I had the Blemish Balm on hand. Thanks Senica!' ~ Jen


At Sénica we help you care for dry skin issues and celebrate your authentic beauty with artisanal body care products made with functional organic & food-grade ingredients for phenomenal results. Effective moisturizers for dry skin. Informed by traditional Caribbean ethnobotany. Biochemist formulated.